Lift Foils of Puerto Rico is considered the inventor of the "eFoil" propeller-driven hydrofoil board – an electric-powered futuristic personal watercraft (The Wall Street Journal, "Surfers Want to Transform Your Commute with Hydrofoils"). The board provides a smooth, silent, and eco-friendly riding experience across all bodies of water, from rivers and lakes to bays and sounds. In early 2006, Nick Leason, founder and director of Lift Foils, contacted HydroComp for the development of a specially-designed propeller to support their vision of a product with broad commercial appeal for different markets and rider preferences. They needed a propeller and protective shroud design capable of driving the board and its submerged hydrofoil with sufficient thrust.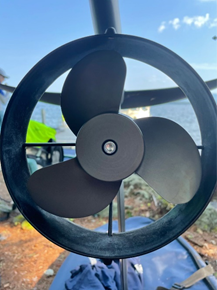 HydroComp utilized multiple tools for the system modeling and component design, including NavCad® for system simulation, PropElements® for propeller performance design, and PropCad® for propeller production design. The propeller design process started by evaluating thrust requirements and suitable RPM ranges for the available motor options and propeller geometric restrictions. Basic parameters for the propeller, such as blade count, outline shape, and pitch, were defined in this first step to meet thrust and cavitation metrics.
These were then refined to deliver a propeller design that considered influence of a shroud, strut leg, motor body, and hydrofoil. The design also had to be adaptable for different product series, so a design space study was conducted to review different pitch models in the series. Finally, multiple 3D CAD prototypes for the propellers were developed to support feedback from Lift Foil's in-house manufacturing and in-water testing.
More than just the propeller, the client needed a shroud around the propeller to protect riders from accidental contact with the rotating blades, but also to protect the propeller from impact damage. The design objective was to minimize shroud drag and maintain rider speed as much as possible. To achieve the best possible shroud for the application, HydroComp employed our CFD tools to evaluate multiple candidates in a semi-automated optimization process, with a final "best speed" candidate provided to Lift Foils for production.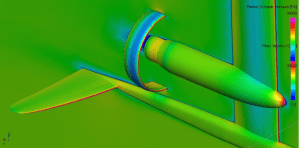 One additional engineering service was to utilize HydroComp's experience and in-house R&D on propeller-driven noise to slightly modify the propeller characteristics to reduce background noise of the propeller. A series of unique (and confidential) edge modifications provided significant noise reduction, offering an almost silent experience.
HydroComp staff members had the rare opportunity to directly interact with the board, propeller, and shroud during a test day with Lift Foil's local New Hampshire affiliate. So, not only did we enjoy the design process with Nick and his team and the satisfaction of delivering another successful propulsor design for a client, we also got to get wet and experience the joy of our efforts from a very different perspective!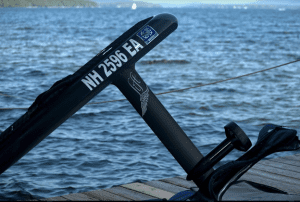 Lift Foils: liftfoils.com
Do You Have an Upcoming Project? Let's Connect.