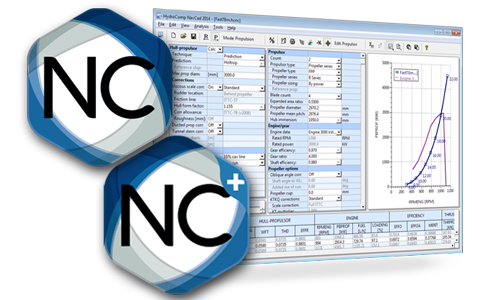 NavCad
Reliable and Confident Performance Prediction
Hydrodynamic and Propulsion System Simulation
Quickly analyze vessel speed and power performance. NavCad provides maritime designers with the necessary tools for the optimized selection of suitable propulsion system components.
Unsurpassed in hydrodynamic design and analysis of ships
NavCad is the premier hydrodynamic and propulsion system simulation tool, providing powerful systems engineering calculations for the performance of marine vehicles. NavCad is built on a physics-based performance equilibrium of the Vessel-Propulsor-Drive system model, and is known for its reliable and confident prediction.
NavCad contains an extensive library of prediction methods for hulls, propulsors, and all necessary pieces, making it the most efficient and comprehensive platform for analysis from early-stage design through post-delivery trial evaluation. Used for any type of monohull or catamaran vehicle from large displacement vessels to fast planing craft to submersibles, it supports a variety of drive and propulsor options.
Whether the focus is vessel, propulsor, drive – or the system – NavCad remains the gold-standard of performance prediction for more than 30 years.
Naval architects and designers
Hydrodynamicists and researchers
Propulsion equipment companies
Vehicle product developers
Navies, coast guards, and educational institutions
Advanced Analyses
The advanced features in NavCad allow you to go beyond speed prediction. Quickly analyze a project for bollard towpull or determine time-to-speed using an acceleration analysis. Employ existing assets such as model tests, sea trials, or CFD calculations to correlate and align predictions – bringing you the highest fidelity with the least cost. Use supplemental analyses to check hydroacoustics, sinkage and trim, drag reduction, dynamic planing stability, and more.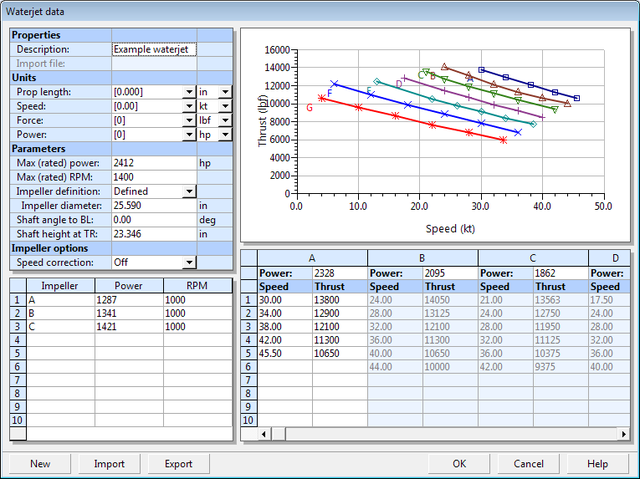 Download: NavCad Edition Comparison Table
"NAP Engineering is extremely happy to use NAVCAD, we are now convinced that our decision to invest in this program proved so right. NAVCAD ALLOWED US TO CORRECT AT LEAST TWO NEW VESSEL DESIGNS IN THE PAST MONTHS, since the initial data we had from other resources and theoretical resistance & EHP calculations were inadequate, incomplete and totally inappropriate for the specific vessels. These corrections towards the right path, made together with the extremely helpful HydroComp team of Experts, gave us not only the knowledge but also — and most importantly — the confidence to consult the Ship-Owners over critical decisions, like main engine selectin and re-calculation of specific hull parameters. We now use NavCade software for all our designs — current and future — in all type of vessels, including our new breed of LNG Bunker Vessels of "Amaltheia" Class."
Features
Design experts rely on NavCad for the prediction of attainable speed and range, power demand, fuel consumption
Vessel resistance predictions via dimensional analysis or numerical methods
Monohull or catamaran; slow-speed full ships to high-speed planing
Resistance of appendages, seas, wins, restricted waterways, towed bodies
Hull-propulsor interaction for both transit and towpull conditions
Steady-state equilibrium propulsion analysis for efficiency and power demand
A variety of propulsor options including FPP, CPP, CRP, waterjets
Sizing of principal propeller characteristics and optimum gear ratio
Propulsion analysis of towpull or vessel acceleration
Prediction of mission duty-profile propulsion KPIs and GHG emissions
Connection with external programs for design space studies
Vessel Types
Monohulls and catamarans
Displacement
Semi-displacement
Planing
Applications
Ocean-going merchant and naval vessels
Small ships and work boats
Motor and sailing yachts
High-performance vehicles
River barge trains
AUV/ROV propulsion
Calculation Protocols
CT-based ITTC-78 and user-defined
Equilibrium-trim planing analysis
Resistance prediction
Propulsion analysis
Propeller sizing
Resistance Prediction
Over 40 bare-hull methods
Alignment to resistance model tests and sea trials
Added drag for appendages, wind, seas, shallow water
Roughness effects
Propulsion Analysis
Prediction of hull-propulsor coefficients
Analysis by free-run, towing, bollard, or acceleration
Determination of thrust, power, efficiency, fuel rate 
Extensive cavitation review
Propulsor Options
Open, ducted, surface-piercing, and cycloidal propellers
Waterjets
Shaft angle effects
Added cupping or face curvature
FPP, CPP, CRP (Simple)
Cavitation breakdown
Alignment to propeller tests or CFD
Roughness effects
Propeller Sizing
Diameter
Pitch
Blade area ratio
Reduction gear ratio 
Integrated Calculation Spreadsheet
Evaluate arbitrary conditions
Analyze sea trials
Validate model tests
Supplemental Analyses
Hydroacoustics
Sinkage and trim
Synchronous pitching
Barge train resistance
Body-of-revolution submersibles and SWATH
Propeller CAD shape
Design Guidance
Hull drag reduction
Optimum trim
Longitudinal wave-making energy
Related Video and Tutorials
Rapid Design Space Optimization
HydroComp NavCad is internationally-recognized as the gold-standard for resistance and propulsion prediction for naval architects. With the recent introduction of the Premium Edition, NavCad is now able to provide integrated support for design optimization…
Features of NavCad Premium Edition
See the new features for NavCad Premium, HydroComp's latest and most advance package containing a collection of major new capabilities! This webinar will demonstrate some of the new premium tools and much more…
NavCad and Barge Resistance
Sometimes the least sophisticated vehicle is the hardest to analyze. With respect to resistance, this is definitely the case with barges. In this webinar, we will review three different barge configurations for analysis in NavCad – individual box barges, river barge trains (with pushboat), and integrated tug-barge units (ITB/ATB)…
NavCad provides powerful systems engineering calculations for the performance of marine vehicles