A conversation with Pete Fagan of New Hampshire eFoil
---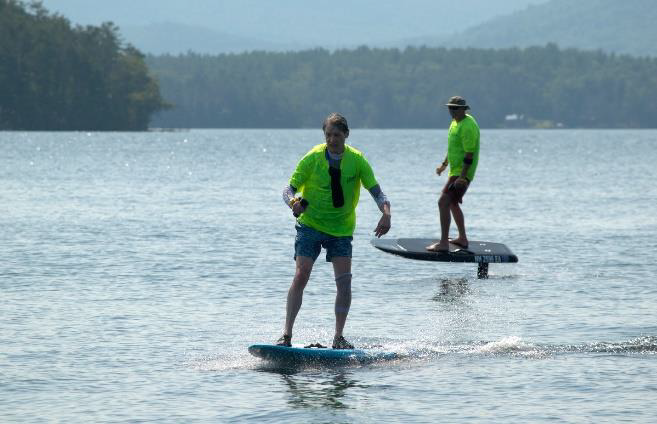 Surf's up – even with no wind or waves. Thanks to Lift Foils' portable and versatile invention, the eFoil, the next generation of surfers is emerging. To make his dream a reality, founder Nick Leason turned to the best in the business for each and every component of the futuristic personal watercraft – including HydroComp. Technical Director Donald MacPherson has had the pleasure of designing an integral part of the eFoil: the propeller. Some have even deemed his eFoil propellers as "a work of art."
"HydroComp provides services for the design of propellers and protective shrouds for their Lift Foil boards," Don explains. "This principally begins with hydrodynamic design using our commercial tools such as PropElements, but also detail studies with CFD. Then we develop geometric design for their manufacture and production."
Reflecting on HydroComp's relationship with Lift Foils, he continues, "Our earliest work was a design space evaluation study of potential propeller variants that began almost exactly 6 years ago."
Since then, the eFoil has really taken off. How is an eFoil different than your traditional surfboard? It is an electric-powered hydrofoil with an advanced lithium-iron battery that powers an advanced motor and specially-designed propeller to create a smooth, silent, and eco-friendly riding experience across all bodies of water – not just the ocean.
Designing the optimum propeller for eFoil's unique application was no easy feat. "When we started with Nick, we had already done many small open and ducted propulsor designs in the UV space, but none for electric foil boards. The duty profile was different, and pretty challenging, in fact, as we had to account for different loading conditions – meaning rider weight – and speed tolerances," shares Don. "As a commercial product, Nick had to account for different markets and rider preferences, and eventually a number of propeller model variants evolved to suit these different objectives."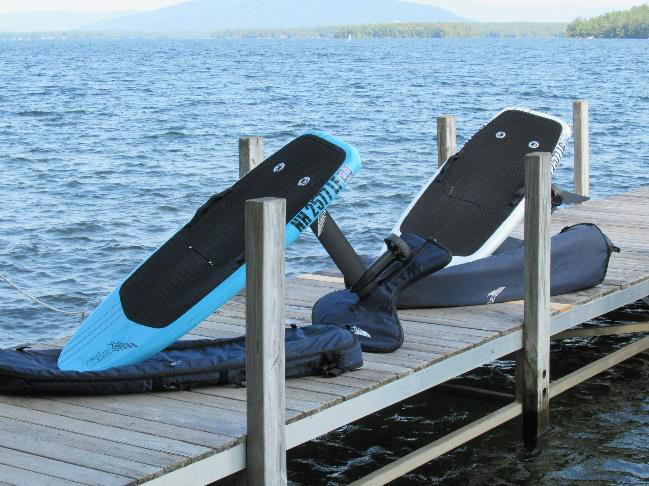 While Lift Foils was founded in Puerto Rico, there are now 300+ affiliates worldwide. One of them is in HydroComp's very own backyard in Laconia, New Hampshire, centrally in the Lakes Region of the state. Owned and operated by Pete and Ann Fagan on beloved Lake Winnipesaukee, the official affiliate for eFoils in New Hampshire offers both private and group lessons. They just completed their first full-time summer with eFoil NH.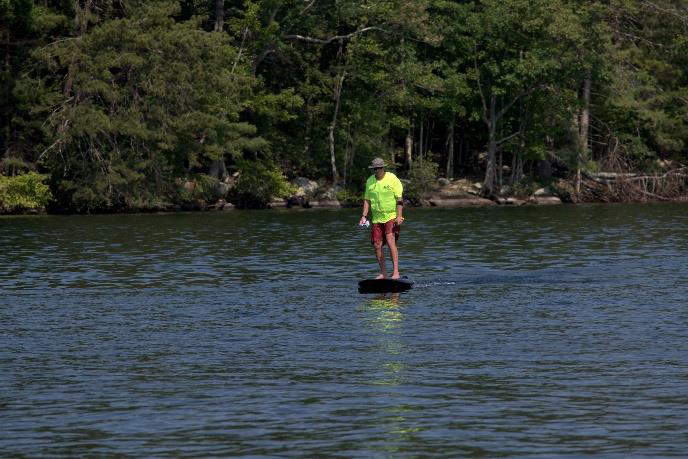 "The thrill of being on a hydrofoil is pretty unique and it's really fun. People get intimidated by it, but close to 95% are riding standing up by the end of the lesson," Pete says with a lot of satisfaction in lakes filled with boats and wake boards, the futuristic eFoil stands out. "A lot of people still don't know about it, they do a doubletake. I think, overall, people love to see them," Pete shares. "Given the fact that they are quiet, electric, and eco-friendly, people go 'I want one!' It's always 'Wow, that's really cool!' or "What is that thing?' or 'How much does it cost?'"
"Boats will just automatically stop and look at us. I had one guy who followed me for the longest time and I finally fell off and he had to know about this board." According to Pete, there is no defined target market for eFoils. He has given lessons to people as young as 10 and as old as 68. It's more about the geographic region, as well as the willingness to go out of your comfort zone and try this cool toy.
What makes the eFoil experience so special is the sensation of flying above water, coupled with the no noise aspect. "When you are on a board, there is always going to be a board slap to the water that creates noise. I tell people to listen to the sound going away," describes Pete. "Things get really quiet. You can cruise above water and not hear a thing – it's a little spooky at first." While people get initially "a little freaked out", the number of happy customers far outweighs those who regret the experience. HydroComp staff had the pleasure of spending a sunny Friday in August with Pete and Ann on Lake Winnipesaukee, which meant we could try the eFoil ourselves. "It's always gratifying to see your work on the water, and it is a rare treat to be able to interact with it on a direct level. Riding these things is a blast," Don beams. When asked if he has any plans to becoming a professional Lift Rider, he jokingly says, "Only if this whole propeller designer thing doesn't work out… Let's just say that I got a chance to feel forces under my feet and to think hydro-nerd thoughts about the propeller's performance and vehicle angles of attack. Still didn't make me a great rider – or keep me from pitching myself into the lake!"
"Riding the eFoil was a unique experience – it's not easy to describe that feeling when you engage the foil, spring up out of the water, and start to fly – but trust me, it is awesome," chimes in HydroComp's Program Manager of Propeller Tools, Adam Kaplan. "The propulsion and throttle system are very smooth and responsive, with plenty of power. I actually kept mine limited to 6 out of 10 to help me learn."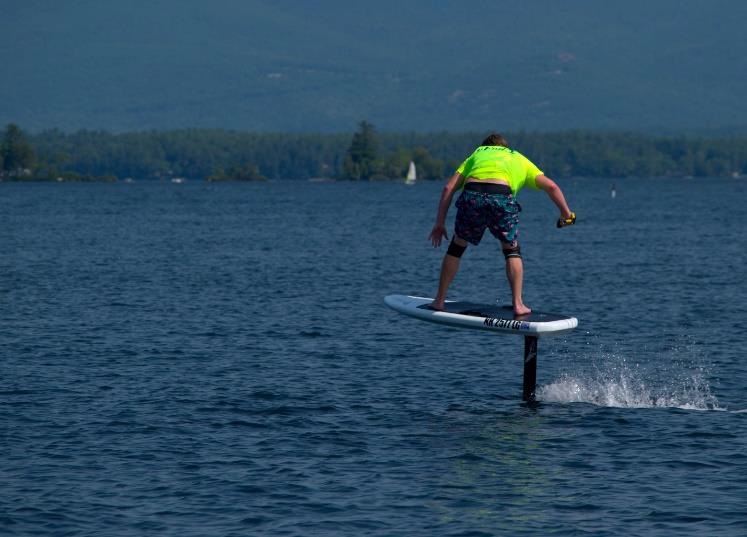 Pete absolutely thinks eFoils will become more mainstream. "I think people are going to embrace eFoils as much as they embrace wake surfing. I can see a lot of people buying them and having them as one of their water toys for the morning. You can eFoil in rough water, but it's much more pleasurable in calm water and without a lot of boat traffic. If you lived on the side of a mountain, on a ski slope, you're able to go out your front door and do a couple powder runs before everybody got on the slopes – that's exactly what this is like."
To create this pioneering watercraft, the importance of immaculate design, craftsmanship, and technology was paramount. "It's a remarkable technology when you have this little prop and a person who is 175 pounds on a 100-pound board getting thrusted in water almost seamlessly. All of this has come together to make this product. I show people the props and the little feathers on the back of the props all the time because of what Alex and Don [of HydroComp] showed me. It's really remarkable that they are able to come up with this and the fact that the wing, coupled with the propeller, just gives it that great lift and thrust to the water – and it really is so effortless."
Meanwhile, Don continues to value this ongoing project with Nick. "He is always challenging us with new ideas and product requirements. Absolutely what we love doing."
Next season, Pete looks forward to obtaining the latest eFoil model – the Lift 3 – and different wings to go along with it. As we wrap up our conversation, he shares that today, October 14, is probably the last eFoil day of the season before the cool autumn weather becomes more consistent. He welcomes another summer of meeting a variety of people around the Lakes Region and introducing them to this new sport.
Check out our best attempt at being eFoil riders on Lake Winnipesaukee!
---
For more information on eFoils visit efoilnewhampshire.com!