Practical Solutions for Your Biggest Challenges
HydroComp's team engages in a variety of engineering and technical consulting projects, from speed predictions, sizing and designing propellers for unique applications, evaluating vessel trial data, or expert witness evaluations. Clients from around the world call on us as Subject Matter Experts.
We partner on all sizes of projects. For example, you can find our work ranging from focused propeller analysis or hull design projects to extensive support for large-scale efforts.
Supporting Vehicle Development
Many companies involved in submersible vehicle development also look to equip the vehicle with a custom thruster. These companies typically have expertise in vehicle and drive design, but will not be experienced in propulsor design. Nor would they be expected to have the specialized tools necessary for proficient thruster design, analysis, and optimization. This article will introduce submersible vehicle developers to the design practices used by HydroComp and other specialists to deliver thruster designs that are among the highest thrust to-power ratio propulsors in service.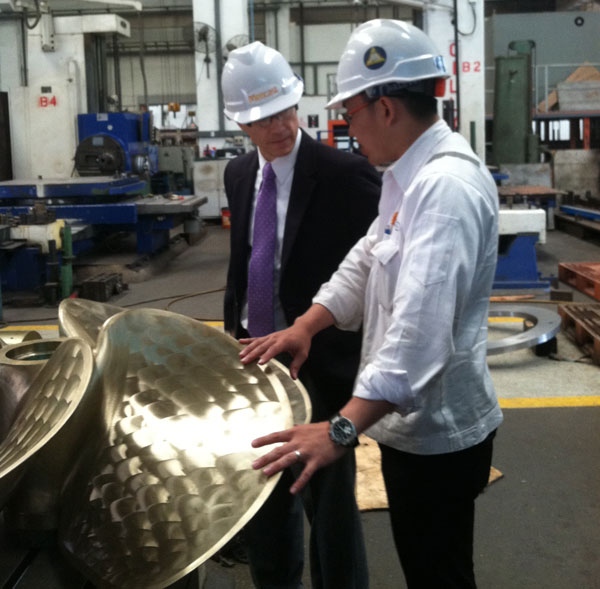 Solving Applied Hydrodynamic Analysis Demands
Technology R&D: HydroComp assists technology research and design organizations with analysis and reporting on specific problems. The challenges range from the development of a design guide to a technology feasibility assessment or a critical review of a proposed product development.
Smaller, focused projects benefit from our experience in various disciplines. For example, we utilize our commercial software products to provide performance analysis, speed predictions, forensic studies, or propulsor designs.
We also support your large-scale, months-long projects. Examples include:
Development of a series of commercial propeller product models
Custom programming for development of companion utilities
Research and publication of industry best practices for hydrodynamic analysis
Complete hydrodynamic and propulsion system performance modeling for ship design from concept through delivery
Expert Witness and Complex Case Consulting Services
HydroComp helps our clients and their legal representation by offering them access to the best expertise in our niche area of hydrodynamics. HydroComp has been providing cost-effective, highly qualified expert witnesses and subject matter experts to the maritime industry since 2000. We also offer consulting on cases where a subject matter expert is of critical value.  Our staff is able to communicate effectively with written statements or deliver composure when on the witness stand. 
To learn more about how expert witness services from HydroComp can provide the expertise and professionalism your case needs, contact us today or call 603.868.3344.