New updates for HydroComp's most popular propeller sizing program.
Over 500 companies trust PropExpert to size propellers, engines and gears for vessels large and small! PropExpert 2023 features the most up-to-date techniques presented in an easy-to-use and powerful package.
Improved propeller codes for accurate sizings
HydroComp PropExpert 2023 includes updates for improved propeller sizings. This includes more stable solution convergence for very low thrust conditions, as well as a new update for the effect of shaft angle on cavitation and required blade area.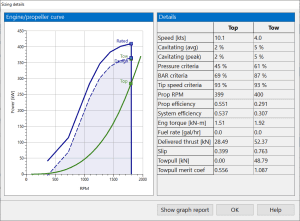 New reporting feature – Copy
PropExpert's reports document your calculations in a professional manner and are a valuable asset to provide to the vessel owner. PropExpert 2023 introduces a new shortcut button to copy the report file to the Windows clipboard. This allows users to quickly get the report performance results to the customer by email or file transfer.
Improvements for Windows 11

The latest version resolves directory permission issues on Windows 11, ensuring a seamless PropExpert experience from first installation to daily use.
Download the full press release here: https://www.hydrocompinc.com/wp-content/uploads/2023/06/HydroComp-PropExpert-2023-Released.pdf
About HydroComp PropExpert
For additional information, click to: www.hydrocompinc.com/solutions/propexpert 
For more information, please contact:
Danielle Doonan, Marketing Coordinator
danielle.doonan@hydrocompinc.com
+1 603-868-3344