It was an unseasonably cool June evening in Boston – one that felt more like the beginning of fall rather than the start of summer. I had the pleasure of meeting with Gustavo Manzanilla, of Manz Group, which is based in Panama. Gustavo was in the midst of his bi-coastal, whirlwind U.S. tour and wanted to meet with HydroComp! I was fortunate to welcome Gustavo to Boston and lead him on a brief historical city tour. It was rewarding to finally put a face to the name of not only one of our clients, but also our newest software representative for Central and South America.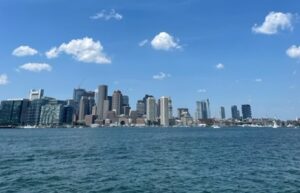 For our meeting, I suggested we begin on the iconic Boston Harbor waterfront, filled with boats galore – ranging from water taxis and sail boats to cruise ships and pleasure craft. Gustavo was thrilled to get a glimpse of some of this activity before we headed up to the North End neighborhood, Boston's Little Italy, for dinner.
Halfway through our meal, our outdoor dining experience came to a halt due to a small fire that had broken out nearby. As more fire trucks arrived on the scene with their sirens blaring and lights flashing, we were hurriedly escorted inside. Happy-go-lucky Gustavo wasn't phased in the least and simply said with a laugh, "You will never forget the time you met the guy from Panama and there was a fire during dinner."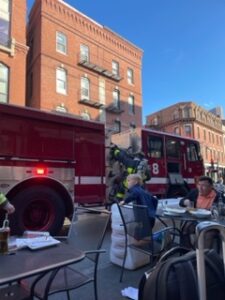 Despite the commotion, our conversation drifted towards how Gustavo began his career in the marine industry. Originally from Venezuela, Gustavo moved to Panama several years ago to become more involved in the large marine market. His passion for marine began after repairing his first yacht. "After the sea trial with the yacht, I basically fell in love with the marine business." To further his knowledge, he even started to converse with MIT professors. You can imagine his excitement when our trolley tour included a quick trip across the Charles River to Cambridge, where he got to see part of the MIT campus.
The Manz Group is a family business which Gustavo started after receiving his MBA. He believes having this powerful combination of both engineering and business degrees allows him to see both sides of the conversation. He said his MBA is "an amazing tool."
"Right now, we are focused on the marine sector, but it is an energy business. We are looking to move into the electrical space and looking to push the boat owners to move to a better natural resource. To do this, you need to explain to the boat owner what they need to invest to have that technology, but also how much they will save running it."
As we made our way to Copps Hill Terrace, Gustavo didn't miss a beat – pointing out the USS Constitution across the way in the Charlestown Navy Yard. Gustavo's initial experience with HydroComp was when his previous employer inquired about HydroComp PropExpert, software for propeller sizing and analysis. When I met HydroComp, everything changed for me."
The Manz Group are now users of HydroComp's flagship software, NavCad. "With NavCad, it's amazing. You can basically simulate the behavior of any kind of operation and at the same time, you can study the impact, including the economic impact, on the boat. These days, the increase in the fuel prices, you have a tool to check the economic impact. NavCad is a huge, huge tool."
Overall, Gustavo believes that passion leads to success. He loves that within the marine industry there is a big opportunity to keep improving it. However, he is not blind to the challenges that come with it, including the changes in the fuel industry. "Now, we are facing more electrical engines and different kinds of systems," he stated. "I believe the software is adapting to that kind of industry, but we need to move fast. If we adapt, we survive." HydroComp is working on keeping up with these trends – NavCad 2022 even incorporates features for AC/DC motors and electric, dual-fuel motors.
Gustavo's personal goal is to increase HydroComp sales in Latin America and to lead Spanish-speaking software training.
His favorite part of the job? When he makes a customer happy. "The customer's happiness is satisfaction for us. We work really hard for that. When you solve a problem for a customer, you feel really happy – that's a really nice feeling."
We are lucky to have Gustavo on the HydroComp team and look forward to continued collaboration in the future. In the meantime, be on the lookout for a man in a green "Wicked Smaht" t-shirt the next time you're in Panama!
For more information, contact:           
HydroComp, Inc.
Tel +1.603.868.3344
danielle.doonan@hydrocompinc.com
Manz Group
Tel 507.6390.0186
gm@grpmanz.com
Download this interview here.