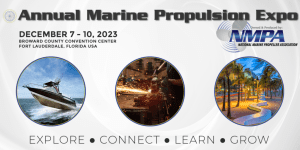 (Formerly National Marine Propeller Association Convention)
HydroComp will be presenting "Propeller-Generated Vibrations: Sources, Transmission, Response, and Mitigation" during the conference:
This presentation is intended to be a "practical primer" about propeller-generated noise and vibration – the not-so-hidden consequence of the useful forces that push and maneuver a boat. Propellers are just one player in the three-part harmony that make up the "hydroacoustic" system of Formation-Transmission-Response. Join HydroComp's Jonas Armstrong for an introduction into how propellers generate noise and vibration, the mechanisms of noise transmission and response, and some suggestions for mitigation.
HydroComp will be participating alongside our partner company TrueProp Software, who will also be exhibiting and offering live demonstrations.
Industry attendee registration: nmpa-member-mgr.wildapricot.org/event
Consumer ticket purchase: nmpa.net/consumer-tickets/