Ver esta página en español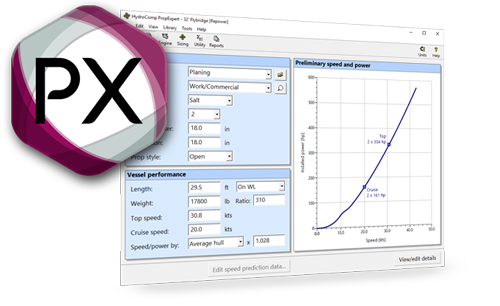 PropExpert
Propeller Sizing and Analysis
Providing All Tools for Proper Propeller Selection
PropExpert offers the most up-to-date techniques presented in an easy-to-use and powerful package. Calculate optimum diameter, pitch, reduction gear ratio, and blade area for open or ducted propeller systems.
The Go-To Sizing Tool for Propeller Manufacturers and Distributors
PropExpert is ideal for selecting and analyzing propeller systems for workboats and pleasure craft. Confidently identify vessel-specific propulsion system components with just a few inputs. The installed commercial propeller library can be extended with your own data, and build your own library of vessels, engines, and gearboxes. Utilize data from a prior trial or a similar vessel to anchor your model to real-world performance, or use PropExpert's speed estimation formula when data is not available.
PropExpert's project library can help you manage your database of projects, vessels, propellers, engines, and reduction gear models. Achieve top performance with the software's two-stage "size it then analyze it" solution for determining top speed, thrust, power, and efficiency.
Propeller shops, distributors, and manufacturers
Engine and gear companies
Boat builders and designers
Propulsion system consultants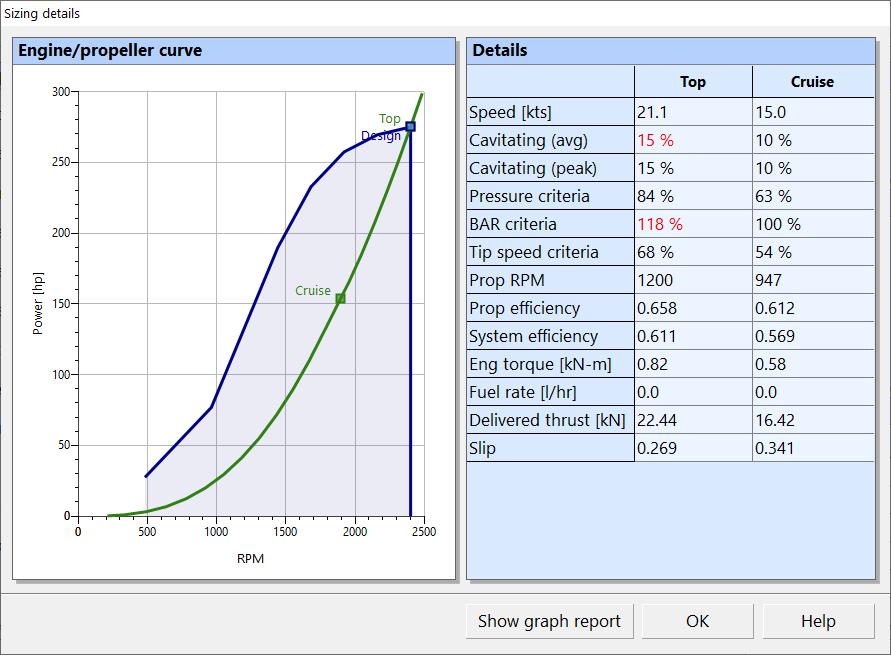 Enhance Accuracy with Sea-trial Data
The advance features in PropExpert allow you to dive deeper into propeller analysis. Use data from a prior trial or data of a similar vessel to anchor your model to real-world performance – or use PropExpert's speed-estimation formula when data is not available.
Size Virtually Any Propeller
PropExpert determines optimal diameter, pitch, blade area and RPM for commercial inboard propellers of two to five blades, from about 450mm (18-inch) diameter up to about 2.5m (100-inch). Both flat-faced (Gawn) and foil-section (B-series) propellers are supported, as well as ducted propellers (Kaplan). PropExpert evaluates cupped and "progressive pitch" (cambered) propellers, and offers special consideration for folding propellers and propellers in stern pockets.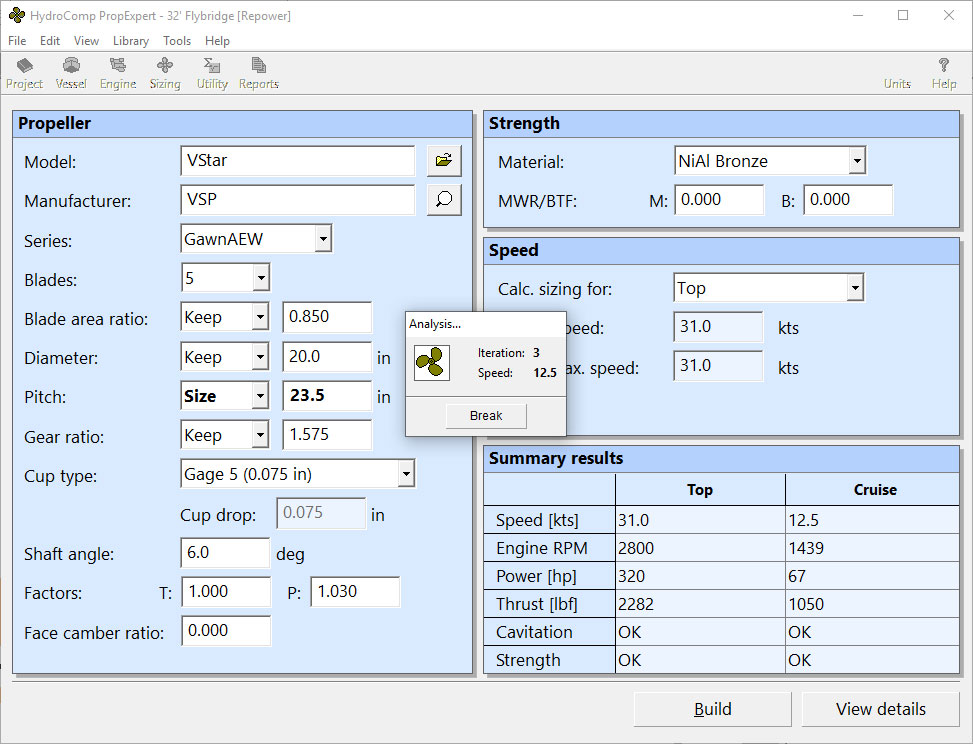 I am loving having the program at our disposal. We have used PropExpert every day since we have received it, I don't know how we ever got by without it.
Propeller sizing and analysis
Optimum Diameter, Pitch, and BAR
Finds the best gear ratio for the system
Initial speed prediction using estimates, a prior trial, or a similar vessel
Propeller system analysis, including cavitation metrics
Library of common propellers
Propeller Types
Gawn (flat faced)
B-series (foil)
Kaplan 19A and 37 (ducted)
MAU & MAUw
Hull Types
Displacement
Semi-displacement
Planing
Sailing yach
Barge
Catamaran
River boat
Service Types
Passenger/pleasure
Work/commercial
Towing
Bollard
Sizing Available For
Diameter
Pitch
Blade area ratio
Reduction gear ratio
Data Managers
Projects
Clients
Sea-trials
Propellers
Engines
Speed Prediction
Average hull formula
Based on prior trial
Based on similar vessel
Performance Analyses
Efficiency and slip
Thrust and tow pull
Engine power and fuel rate
Cavitation
Blade strength
Shaft diameter
Advanced Features
Cupping
Face curvature "progressive pitch"
Data estimates
Cavitating performance
Effect of shaft angle
Blade scan analysis
Report Formats
Summary report
Technical appendix
Performance plots
Report Options
Integrated report viewer
Save as PDF and CSV
Attach to email
Report Languages
English
French
Italian
Portuguese
Spanish
User-defined

Never stop learning. Take a HYDROCourse.
Related Video and Tutorials
Introduction to PropExpert
Learn about PropExpert, HydroComp's propeller selection tool for the sizing and analysis of propellers for work boats and pleasure craft. It provides the tools needed for the proper selection of propulsion system components – engine, gear and propeller – and is the principal sizing tool of manufacturers and distributors.
Using Prior Trial with PropExpert
In this webinar, HydroComp will review a vessel which is requesting a new propeller. A client with a 14.5m motor yacht wants to increase top speed from 19.2 knots on trial to a desired 26 kts. We also encourage anyone interested in PropExpert to join us and see how PropExpert can increase their analytical capabilities.
Calculating, selecting and analyzing made easy with powerful PropExpert
Need software for propeller inspection?

Ver esta página en español
We are using both PropExpert and TrueProp software for our propeller projects, whether it is for inspection or reverse engineering, scanning the propellers with TrueProp gives us accurate, detailed information about the current state of the propeller and can provide full dimensional report which help us to determinate which are the areas out of tolerance on the propeller. 
The laser scanner allows propellers to be inspected virtually anywhere with a high degree of accuracy. We can use the measurements from the propeller with the PropExpert software to make recommendations for improving the vessel speed and engine loading. PropExpert allows us to calculate the result of changes to the propeller or engine and better inform the customer. Together, the two software packages help us provide a valuable service to our clients.