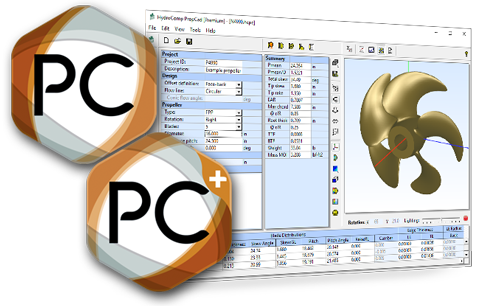 PropCad
Propeller Design for Manufacture
Taking You From Concept to 3D Model
Prepare limitless designs of any marine propeller with PropCad's comprehensive geometry definition. Enter a propeller style from PropCad's Builder library, target blade area ratio, the amount of skew or rake, thickness rule, or a number of other design targets. PropCad builds the entire geometry – chord length, thickness, skew, rake, and all section offsets.
Full-featured Design for Geometric Modeling of Marine Propellers
PropCad's interface provides full control over the blade parameters and hydrodynamic section shapes. It's powerful and fast. A library of standard designs and distributions allows users to rapidly develop new designs and design variants. The feature-rich tool automatically prepares 2D design drawings, 3D CAD models, construction data and offset reports – as well as class society thickness calculations.
Propeller designers and manufacturers use PropCad to increase their productivity, producing better propeller designs in less time. PropCad keeps your drawings, reports, and 3D geometry together within a single project.
Users can design, save, and import their own section blade definitions. These blade sections can be modified by adding camber or cup. Designers can create advanced blade shapes with progressive pitch. PropCad displays local pitch values ensuring the design accurately meets the total overall progression.
Propeller designers and manufacturers
Hydrodynamicists and CFD/FEA specialists
Research institutions and model tanks
AUV, ROV, and thruster builders
Design Library Integration
Utilize existing library designs for any geometry. You specify your propeller parameters and select the distributions from common library propellers to generate a complete set of propeller geometry data. The design library includes many of the world's popular geometries (including B-series, Kaplan, Gawn, MAU) as well as cleaver and tunnel thruster blade forms.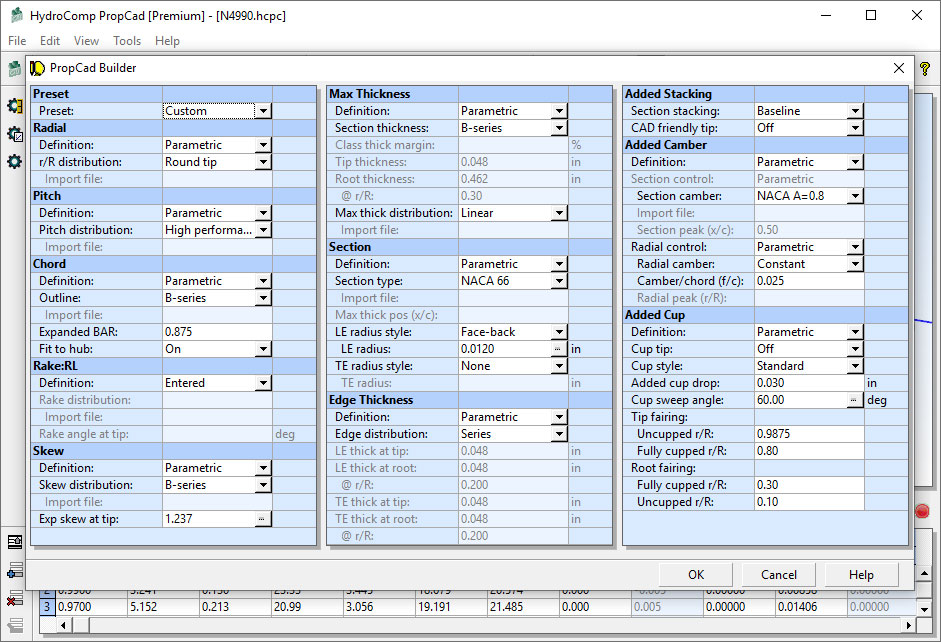 PropCad Edition Comparison Table
Features
Comprehensive tools for propeller design and manufacture
Integrated geometric designer
Traditional 2D design drawings
Multiple 3D views and graphics
Design wizards for rapid development
Build from scanned blade data
Supports any custom geometry
Classification thickness calculations
Builder Parameters
Section profiles
Camber
Cupped region
BAR Pitch distribution
Blade outline
Expanded area ratio
Rake & skew angles
Blade thickness
Hub envelope
Edge thickness and radius
Shaft dimensions
Root fillets
Builder Library Propellers
B-series
Gawn
Kaplan
SK
Wedge
AU
MAU
MAUw
Custom geometry files
Thickness Rules
ABS
BV/RINA
LR
KR
NK
CCS
Baltic
IR
Supplemental rules for Ice Class and naval vessels
File Exports
Drawing: DXF, PDF, DOC
Reports: PDF, DOC, CSV
CAD/CAM: SolidWorks, Rhino, PTC Creo, Siemens NX, Mastercam, SURFCAM, Delcam PowerSHAPE, Point Cloud, IGES, STL, VMRL
Supplemental Calculations
Total weight
Mass inertia
Added wetted inertia
Skew angle
BAR
BTF
Mean pitch
Local pitch

Give yourself a competitive advantage. Register for a HYDROCourse!
Related Video and Tutorials
Importing legacy files Into PropCad
This video reviews how to import legacy PropCad 4 files (from PropCad 2011 and earlier) into the latest version of PropCad. This procedure is used in PropCad 2014 and newer…
Exporting a PropCad design to Solidworks
This short video demonstrates how to prepare a PropCad propeller design for export to Solidworks. We will export the geometry from PropCad and run the macro within the Solidworks software…
PropCad – Adding r/R sections and root fillets
This video reviews how to add new radial positions to a propeller project in PropCad. Sections can be added to intersect the blade and the hub geometries, and finally root fillets can be defined and visualized.
Scan Converter for Propeller Feature Extraction
HydroComp PropCad is often used to interpret existing propellers, patterns, and scan reports in order to recreate legacy designs. The Scan Converter utility – which is now a part of PropCad Premium Edition – is used to extract propeller features such as pitch, chord, skew, rake, thickness and section offsets using 3D data points collected from a physical propeller or pattern.
Design of Patterns with PropCad Premium
HydroComp PropCad features a new Premium Edition utility for creating propeller patterns and mold geometries. The new "Pattern Corrections" utility allows users to rapidly create casting patterns, mold geometries, and machining models by specifying the machine stock and shrinkage factors to be applied to the original PropCad design model.
Recreating a Propeller Design from a Drawing
Propeller builders and marine engineers will find value in this review of recreating a design from a drawing. This PropCad session reviews manual entry of distributions (pitch, skew, rake, chords) and section shapes and culminates in a new 3D model and 2D drawing.
Propeller Thickness, Class Societies, and Compliance
(Note: there is a 1:30 minute audio delay at the beginning.)
In this webinar, HydroComp will review an important subject for propeller builders: compliance with classification society thickness rules. We will discuss selection of classification societies, rule applicability, materials, variations and similarities between society rules, and important "need-to-know" caveats that anyone using these calculations should master…
Speed design productivity
Prepare limitless designs of any marine propeller with PropCad's comprehensive geometry definition